I became an orthodontist because of the impact that orthodontics had on my life. Growing up I was an awkward teenager and did not like my smile. That changed when my braces came off because I was proud and confident about my smile. I want to share that life-changing experience with all of my patients. Witnessing what a difference my work, effort, and sincerity have on the lives of those I care for makes my days fulfilling.
After studying Biomedical Engineering at the Johns Hopkins University, I trained in dentistry at UCLA and completed my orthodontic training at the Baylor College of Dentistry in Dallas. In order to ensure that my patients benefit from the best, most efficient, and proven treatment methods, I pursue continuing education through professional meetings, conferences, lectures, and literature. Committed to the highest level of excellence, I have subjected myself to additional testing and peer review to become board certified by the American Board of Orthodontists.
Outside the office, my wife and I enjoy cooking together, watching movies, and spending time with our three young nieces, Sophia, Monica, and Olivia, and our dog, Starfox. We also attend the Watermark Community church. I am also a loyal fan of the Cowboys and Mavericks.
What does it mean to be Board Certified?
After completing a college degree, 3-4 years of dental school, and 2-3 years of orthodontic residency, board certified orthodontists voluntarily test their clinical judgement, skills, and knowledge through additional written and oral exams and peer review by other members of the American Board of Orthodontists. Roughly 1 in 20 dentists are trained to specialize in orthodontics by an accredited orthodontic program. Among these specialty-trained orthodontists, only 1 in 3 pursue board certification.
We recognize that all our patients are unique and deserve to receive orthodontic care that reflects their individual needs. Our experienced and talented team is committed to working with you and your family to create a comfortable, stress-free, and rewarding orthodontic experience every time you visit our practice.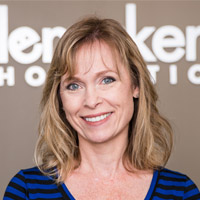 Cheryl Hoffman // Front Desk Coordinator
I am so excited to be a part of the Smile Makers Team.  Our team strives to create a family minded atmosphere.  After all, we will see quite a bit of each other over the course of treatment!  Care and commitment to our patients is our top priority.
I have been in dentistry for 30 years and have always valued the opportunity to learn, whether the learning is through a person or a situation.  Most of the years have been in general dentistry, but I have a few years of orthodontic care tucked in there.  Having been exposed to general dentistry and orthodontics helps me understand how the function of orthodontics affects a person's overall well-being.  Braces have changed over time.  They aren't just for esthetics anymore.
My other half is my husband Rick.  We have been married for 24 years and have 2 dogs.  Being rescues, we think they are a blue heeler/terrier mix, but we don't know.  That just adds to the fun.  They are our fur babies.  We recently moved back to the area and enjoy being on this side of the pond!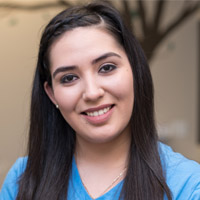 Lucero Rivera // Orthodontic Assistant
I graduated from Careers in Dental Assisting School in June of 2016 and started working at Smile Makers Orthodontics since then.  I am thrilled to be a part of this awesome team! My husband, Christian, and I have a blue heeler named Cowgirl.  When I am not at work, I love spending time with my friends and family.  We love to go to the movies and watch all of the new releases.
As an orthodontic assistant, I have the opportunity to really get to know my patients, and I truly value that.  I also enjoy being a part of the transformation that takes place.  It is so exciting!
My husband and I are members of Lady of the Lake Church in Rockwall, and we live in Royse City.  If you ever see me around, be sure to say hello!